Natural grass
Sports turf
Sport, playing to win is as old as humanity itself.
Throughout the centuries, the founders of the game realised that this urge to compete stands out best on professionally installed sports fields, provided with natural grass. Even these pioneers in sport came to the conclusion that there is nothing better than natural grass.

Its naturally protective effect easy maintenance and natural character invites people to express their competitive urges. The emotion of losing and winning on a fresh, green, grass playing field is unequalled.

Fear of injury, high temperatures and negative environmental aspects no longer play a role in the open-minded feelings of the sportsmen, in achieving a top performance.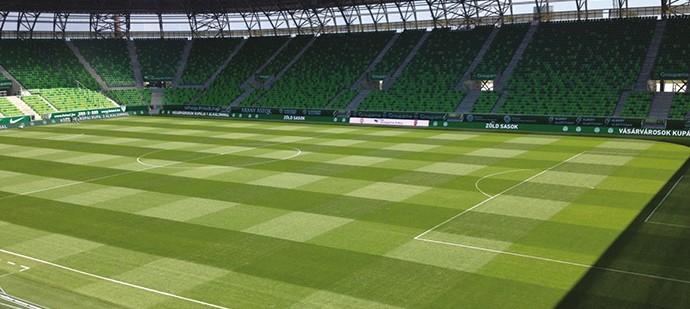 Composition of our Turf
Grass sports fields seriously affect the playability of the surface. Preliminary soil investigation and inspection of the top layer is essential to ensure compliance with the criteria of DIN 18035/4 when installing a grass pitch. Read more about this item in Quality standard.

The composition of our Sports Grass consists of Kentucky bluegrass (Poa pratensis), English ryegrass (Lolium perenne), English ryegrass with RPR.

Our grass mats are well-suited to many climate zones (warm season / cold season) and, as such, can be used multi-functionally if maintained properly.